It All Starts With Saline
Optimizing pre-contrast test injections—Using saline for safe and effective power injection in CT
​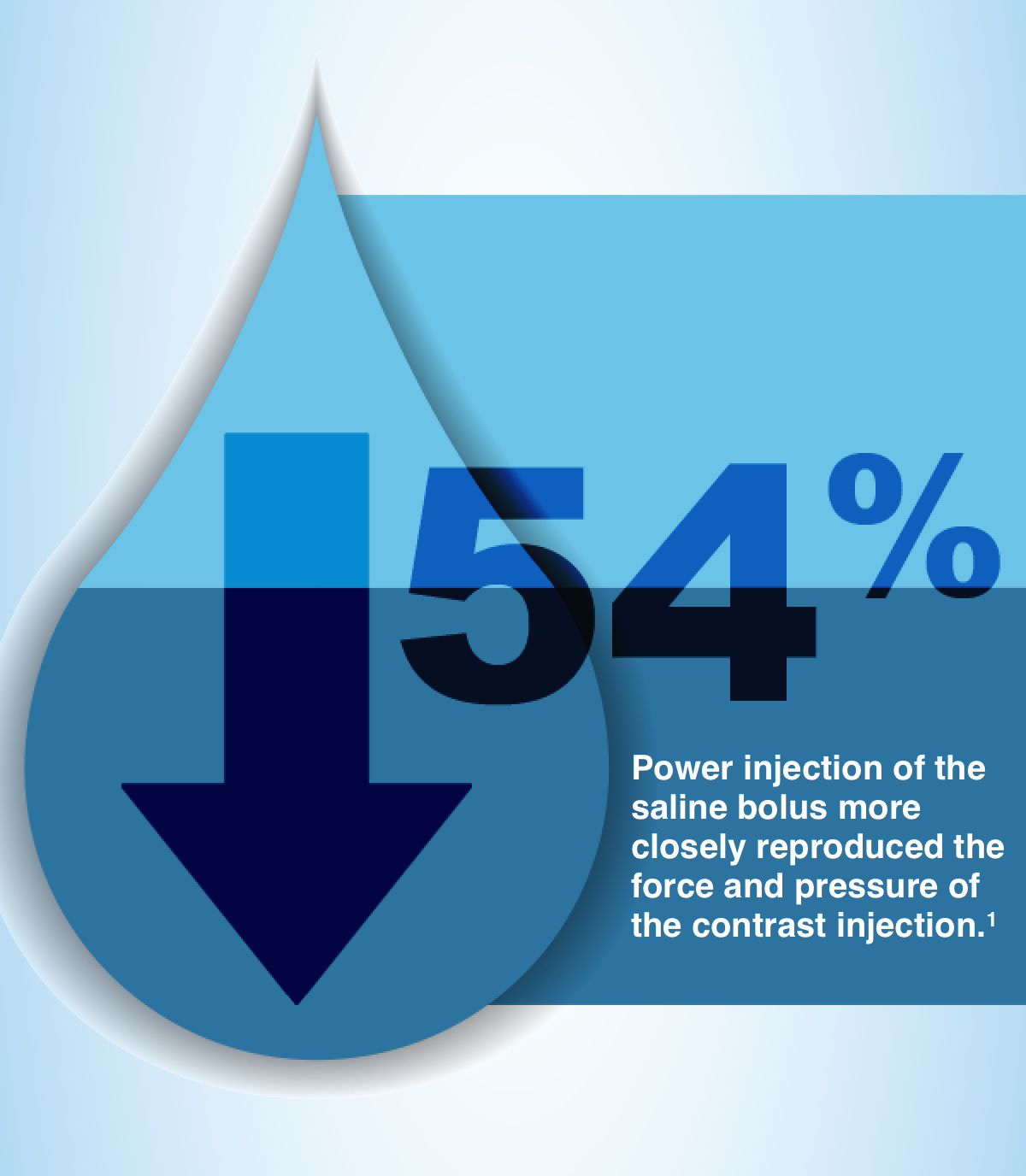 The use of contrast media (CM) for diagnostic imaging and interventional studies has expanded rapidly in recent years, partly due to the efficiency of multi-detector computed tomography (MDCT) scanners that image internal organs faster.2
With this expanded use comes a wider variety of patients with different presenting conditions, including—but not limited to—congestive heart failure, renal insufficiency, and atherosclerotic cardiovascular disease.
With more procedures being carried out, more patients are at risk for development of contrast-induced nephropathy (CIN).
While relatively rare, out of the 36 million contrast-enhanced CT exams that are performed every year extravasation occurs in 0.1 to 1.2% of them, amounting to between 36,000 and 430,000 procedures annually.3
Strategies for Preventing CIN
Use of Saline
Apart from patient characteristics, procedural characteristics also impact the risk of developing CIN. Among these, one of the most important factors is the volume of CM administered—the greater the volume of administered contrast, the greater the risk of CIN.2
In this regard, of prime importance is minimizing the vulnerability of the kidney by enhancing renal perfusion and reducing any vasoconstrictive factors, which typically means volume expansion with intravenous (IV) saline.
In an early study looking at pre-contrast and post-contrast saline administration, researchers from New England Deaconess Hospital prospectively studied 78 patients with chronic renal insufficiency who underwent cardiac angiography. They were randomly assigned to receive 0.45% saline alone for 12 hours before and 12 hours after angiography, saline plus mannitol, or saline plus furosemide.4
Twenty of the 78 patients (26%) experienced an increase in the serum creatinine concentration of at least 0.5 mg per deciliter after angiography. Among the 28 patients in the saline group, only 3 (11%) had such an increase in serum creatinine, as compared with 7 of 25 in the mannitol group (28%) and 10 of 25 in the furosemide group (40%) (P = 0.05). The mean increase in serum creatinine 48 hours after angiography was significantly greater in the furosemide group (P = 0.01) than in the saline group.4
The authors concluded that, in patients with chronic renal insufficiency who are undergoing cardiac angiography, hydration with 0.45% saline provides better protection against acute decreases in renal function caused by radiocontrast agents than does hydration with 0.45% saline plus mannitol or furosemide.4
Maintaining vein patency is of the utmost importance, as well, especially in terms of preventing extravasation.
Maintaining Vein Patency
Radiologists and technologists know that vein patency is key to minimizing extravasation risk.
In fact, in 2018 Einstein Healthcare Network, in Philadelphia, was named a finalist for the ECRI Institute's 12th Health Devices Achievement Award for its research into reducing IV contrast extravasations that occur during contrast-enhanced computed tomography (CT) examinations.1
The Einstein researchers hypothesized that injecting a test bolus of saline using a power injector, instead of injecting it by hand, can decrease the number of subsequent IV contrast extravasations that occur during contrast-enhanced CT examinations.
To test this, the Einstein team initiated a protocol specifying that the saline test bolus be power-injected for all IV-contrast-enhanced studies. The team then compared extravasation rates for a 30-month period leading up to the start of this intervention with those observed during the 15-month period after the change.
Their review of data from over 34,000 contrast-enhanced CT examinations demonstrated that the intervention reduced extravasation rates by 54%.
Leveraging effective use of saline is critical to ensuring vein patency and reducing extravasation risk. When using Bracco SmartInject Systems, administering a test bolus of saline makes sense.
Power injection of the saline bolus more closely reproduces the force and pressure of the contrast injection.1* Plus, using saline this way makes it more likely that a weak IV line will be identified and less likely that extravasation will occur.
Using saline effectively can lead to greater overall patient safety, more efficient use of contrast and, ultimately, the highest quality images.
*Compared to a hand-injected test bolus.
References:
1. ECRI Institute. Reducing IV contrast extravasations during CT examinations—Einstein Healthcare Network validates a new approach. Health Devices. 2018 May 16.
2. Solomon R. Increasing awareness of and concern about contrast-induced nephropathy. US Cardiology. 2005;2(1):1–5.
4. Solomon R, Werner C, Mann D, D'Elia J, Silva P. Effects of saline, mannitol, and furosemide on acute decreases in renal function induced by radiocontrast agents. N Engl J Med. 1994;331(21):1416–1420.
The views, information, or opinions expressed in the video(s) or article(s) above are solely those of the individuals involved and do not necessarily represent those of Bracco Diagnostics Inc. ("BDI"). The primary purpose of this video(s) or article(s) is to educate and inform. This information does not constitute medical or other professional advice or services.