Support Hydration and
Improve Safety With Saline
Post-medication injection of saline reduces the risk of contrast-induced nephropathy
​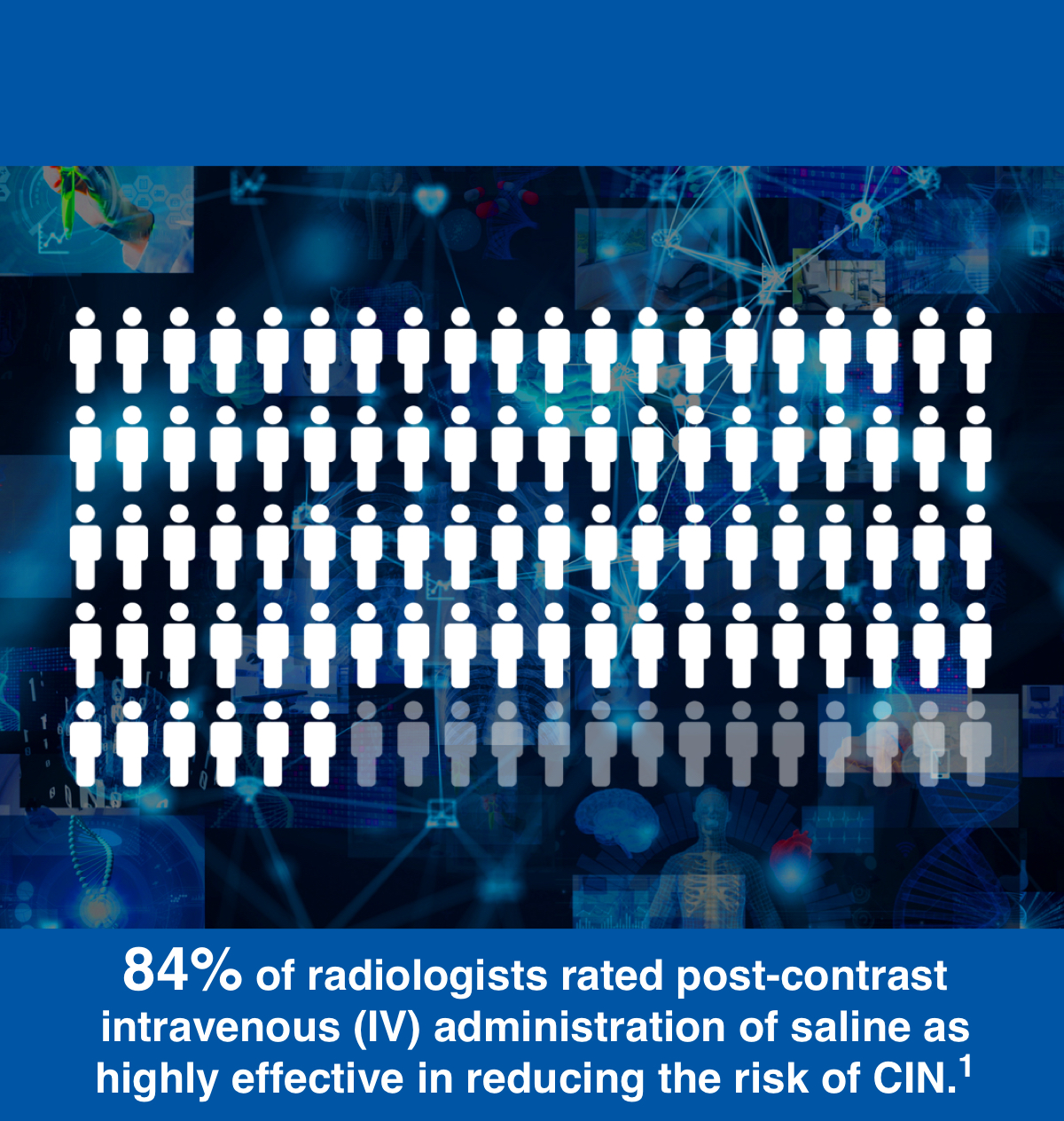 Contrast-induced nephropathy (CIN) is a serious complication of the use of contrast media (CM) and is the third most important cause of hospital-acquired renal failure,2 accounting for 12% of all cases.3
In fact, an increasing number of patients with more risk factors for CIN are undergoing contrast-enhanced examinations, especially computed tomography (CT)—an expected result of aging populations presenting with an expanding number of comorbid conditions.4
In addition, the indications for use of CM have expanded in recent decades along with advances in interventional techniques, fast multislice CT, and three-dimensional reconstruction techniques.1
Although various measures have been recommended to prevent CIN in patients receiving contrast in CT, there is a paucity of evidence to indicate that the incidence rate of CIN is declining.1
However, one measure that has shown both consistent efficacy in supporting best contrast practices and reducing the incidence of CIN is pre- and post-contrast administration of intravenous (IV) saline.
The Importance of Intravenous (IV) Saline
There are clinical benefits to administration of saline after contrast injection, including reduced incidence of contrast-induced nephropathy (CIN).
Randomized studies have found IV hydration with normal saline to be effective in the prevention of CIN and recommended for patients of all risk categories; in fact, it is considered mandatory in the management of patients with kidney disease.
According to Fishman and Reddan,1 in a survey of radiologists participants were asked to rate the efficacy of specific interventions for lowering the risk of CIN—84% rated post-contrast intravenous (IV) administration of saline as highly effective.
Post-Contrast Saline
Importantly, IV administration has been shown to be markedly superior to oral hydration. In fact, in a small randomized controlled trial in patients undergoing cardiac catheterization, those patients receiving unrestricted oral fluids were nine times more likely to develop CIN than were those receiving IV normal saline hydration (1 ml/kg/hour) for 12 hours before and after the procedure.5
In their 2008 review, Thomsen and colleagues concluded that, "extracellular volume expansion seems to be the most effective of all the measures used to prevent CIN," adding that, "The hydration regime should start before and continue for several hours after CM exposure."6
In fact, after reviewing the available evidence, the CIN Consensus Working Panel concluded that IV hydration is the "only strategy that has been shown consistently to reduce the risk of CIN."7
Using post-contrast administration of saline also supports best practices, according to the American College of Radiology, which notes that the reported incidence of post-contrast acute kidney injury (PC-AKI) can be decreased by post-contrast saline.8
In addition, supporting patient hydration via post-contrast IV fluid hydration is considered to be "the mainstay of practice in the prevention of CIN," in that it is low-risk, poses few side effects and is cost-effective.9
References:
1. Fishman EK, Reddan D. What are radiologists doing to prevent contrast-induced nephropathy (CIN) compared with measures supported by current evidence? A survey of European radiologists on CIN associated with computed tomography. Acta Radiol. 2008;49(3):310-320. doi:10.1080/02841850701858257
2. Nash K, Hafeez A, Hou S. Hospital-acquired renal insufficiency. Am J Kidney Dis. 2002;39(5):930-936.
3. Hou SH, Bushinsky DA, Wish JB, Cohen JJ, Harrington JT. Hospital-acquired renal insufficiency: a prospective study. Am J Med. 1983;74(2):243-248.
4. Solomon R. Contrast-medium-induced acute renal failure. Kidney Int. 1998;53(1):230-242.
5. Trivedi HS, Moore H, Nasr S, et al. A randomized prospective trial to assess the role of saline hydration on the development of contrast nephrotoxicity. Nephron Clin Pract. 2003;93(1):C29-C34.
6. Thomsen HS, Morcos SK, Barrett BJ. Contrast-induced nephropathy: the wheel has turned 360 degrees. Acta Radiol. 2008;49(6):646-657.
7. Stacul F, Adam A, Becker CR, et al. Strategies to reduce the risk of contrast-induced nephropathy. Am J Cardiol. 2006;98(6A):59K-77K.
9. Gupta RK, Bang TJ. Prevention of contrast-induced nephropathy (CIN) in interventional radiology practice. Semin Intervent Radiol. 2010;27
The views, information, or opinions expressed in the video(s) or article(s) above are solely those of the individuals involved and do not necessarily represent those of Bracco Diagnostics Inc. ("BDI"). The primary purpose of this video(s) or article(s) is to educate and inform. This information does not constitute medical or other professional advice or services.